*This post may contain affiliate links. As an Amazon Associate we earn from qualifying purchases.
It's hard to believe that less than a decade ago we were not streaming television.  Now it's almost impossible to not have a streaming service that you go to everyday to watch your favorites on demand.  
The match up between Netflix vs Hulu is an ongoing debate. Therefore, we have taken the challenge to provide you with as much information as possible for you to choose which is best for you!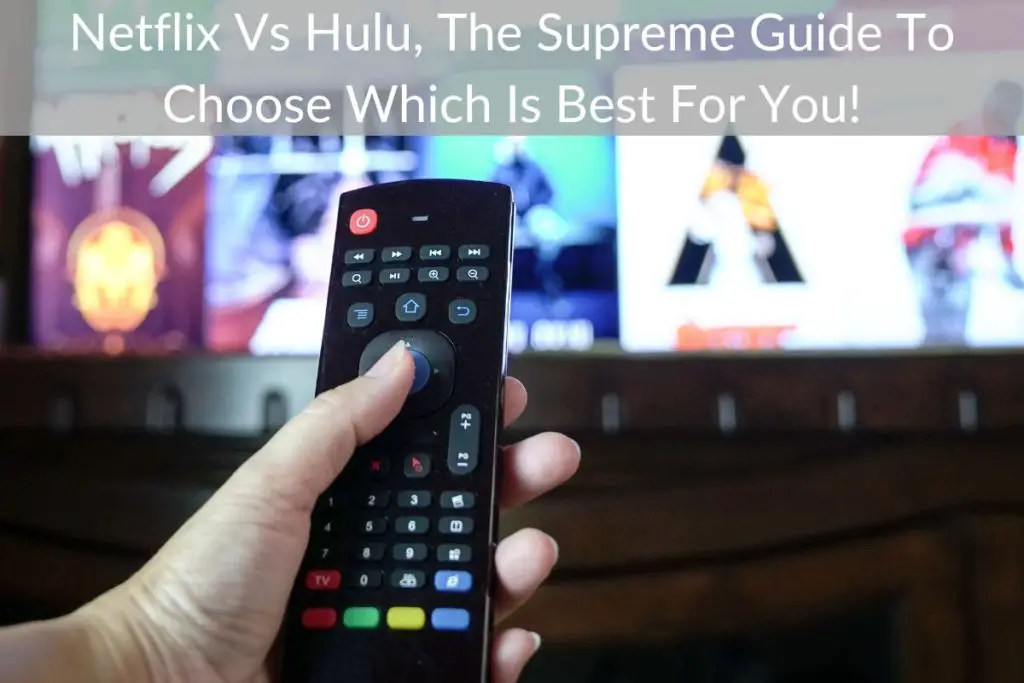 The Beginning of Streaming Netflix vs Hulu Plus
Over 20 years ago Netflix started out as a DVD-by-mail service with no late fees that pretty much put movie rental places, like Blockbuster, out of business. In 2007, it started offering streaming content, which has become its main business.
In 2016, Netflix had over 47 million US subscribers and about 4 million of them still get Netflix DVD's Service.  Movies were originally the main reason to watch Netflix, but that has changed over the last 10 years.  
Binge Watching has become the "norm".  
What is binge watching?  According to the Urban Dictionary binge watching is "watching a TV series in a week with multiple seasons, and getting little to no sleep."
Hulu hasn't created any new terms but it is a similar beast.   It launched in 2008 quickly becoming the go-to service for finding programs from major television networks days after they air. This makes Hulu the fastest at getting content to it's subscribers.
Hulu is only available in the US and has only 12 million subscribers.  Mostly know for TV shows the service may soon launch into live programming that could replace cable.
---
Which Is Better Hulu or Netflix For Available Titles?
The benefit of Netflix vs Hulu is in the profundity of its library, that includes more TV show also movies, particularly for kids, than Hulu. Be that as it may, Hulu frequently has current episodes of well known TV programs inside a day or two, while Netflix might not have current seasons for up to a year or more, depending on the arrangements Netflix has made with production companies.
Hulu has in its libraries more than 43,000 TV episodes from more than 1,650 shows, and more than 2,500 movies.
Netflix has more than 100,000 titles in its libraries.  Netflix updates selection on a monthly basis and says that availability and termination are due to accessibility. 
WINNER:
Netflix with double the amount of titles available for streaming (not even counting the DVD service) in this battle of Netflix vs. Hulu.
---
Who is Making More Money Hulu or Netflix?
Hulu is owned by Twenty-First Century Fox (NASDAQ:FOX), the Walt Disney Co. (NYSE:DIS), and Comcast's (NASDAQ:CMCSA) NBCUniversal. Since the organization is not traded on an open market it doesn't need to disclose budgetary information.
"WHEN YOU CONSIDER THE WAY THAT HULU INITIALLY JUMP STARTED OUT OF BETA IN 2008, IT'S A SIGNIFICANT GREAT DEED TO SCALE THE BUSINESS FROM ZERO TO $1 BILLION THROUGHOUT ONLY SIX YEARS,"

MIKE HOPKINS, PRESIDENT
While Netflix (NASDAQ:NFLX) and Hulu offer comparable administrations on an exceptionally wide level. Both offer over-the-beat advanced streaming of network shows and motion pictures and both make original content.   However,  what was at one time a clash of two equivalents has seen Netflix pull a long ways in front of its adversary.
WINNER:
In 2015, estimates put Hulu's revenues at around $1.5 billion from its subscriber and advertising. Netflix generated $4.8 billion during the first three-quarters of 2015. Again making Netflix the winner in this round.
---
Hulu vs Netflix- Which Is Easier To Work?
Are gotten to by means of the Internet (at first in any event). You sign into the both your netflix vs hulu record to get to every one of the motion pictures and shows you covet. Both offer free trials to try out on the off chance that you like their administrations.
Hulu Plus is the gushing just administration, while Netflix additionally offers a DVD mails program, where you picks your titles on the web and shape a "list of things to get," then gets them sent to you using mail with no due date.
When you wrap up the motion picture, send it backs, also another from your rundown gets conveyed.
TIE:
Both are genuinely simple to work. Join, create a password and you're ready to begin viewing your most loved films, and TV series, and additionally find new favorites.
---
Platforms: Which is better Netflix or Hulu?
Netflix has various platforms on which to watch your favorite shows or movies. Perhaps this is on the grounds that it's been arounds longer or in light of the fact that it's been a pioneer in the business, whatever the case is, you can get to your account and watch movies and shows by means of:
PC and Mac PCs
 Xbox
Playstation
Wii
iOS
 Android
Windows
Blu-ray players
HTDTVs
TiVo
Roku
Clients stream without much trouble from one platform to another.
Hulu doesn't have the same amount but there are enough including:
Xbox
Playstation
Roku
iOS
 Android
Amazon Kindle Fires
Nintendo 3DS
Blu-ray players
TiVo Premiere
PCs
Nintendo Switch
Hulu likewise allows subscribers to watch from a few platforms like Netflix.
TIE:
Each Streaming service has plenty of choices for subscribers to choose where they watch their favorite shows and movies.
---
Original Content:  Netflix or Hulu which has Quality and Quantity?
Netflix has become a contender with the likes of AMC, BBC and Showtime with its original programming.  With over 1,500 original content shows, movies, stand up comedy and miniseries there is always something to watch.
What original content does Hulu have?
Hulu has 123 originals shows at this moment, with arrangements for additional programming in progress.
WINNER:  
Netflix clearly has more original content that you can't see anywhere else.  And with the profits Netflix makes year after year the budget for quality programming far exceeds Hulu.  
---
Hulu Plus vs Netflix: Streaming Quality.
Netflix individuals have entry to top notch HD stream. So all your most loved shows will look astounding on your HD TV. Netflix likewise offers Super HD, yet everything relies on upon who your ISP also broadband execution and quality. Not each title is shown in HD or even Super HD.
Hulu Plus likewise offers its individuals HD recordings. While not all substance on Hulu Plus is HD, clients can channel HD-just substance while perusing the Hulu index.
TIE:
Streaming is all dependent on you ISP which makes this point null.
---
Hulu vs Netflix Which Service Has New Shows Faster?
Netflix usually has new seasons of series available when the new season starts on the appropriate network.  Hulu has new content available DAYS after they air on live Television.
WINNER:
Hulu wins this hands down.  The biggest complaint Netflix receives is that new seasons are not available soon enough.  Hats off HULU!
---
Who Has More Subscribers Netflix Hulu?
Netflix by a wide margin has the greatest membership numbers.   Starting a month ago, they revealed 221.6 million subscribers, incorporating 74.6 million in the United States and Canada alone.
What number of subscribers does Hulu have?  Hulu announced that it has about 45.6 million subscritions. That lingers behind Netflix, clearly, however, the development rate is exceptionally incredible.
WINNER:
Netflix is the obvious winner of this round which may change in the future.
---
Price
Both Netflix and Hulu offer a paid membership (but there are Netflix coupons), where for a month to month membership fee, the end client can stream an extensive library of tv series and movies.
Looking at the netflix vs hulu monthly fees, both streaming services charge the month to month fees to your credit or debit card after the initial free month.
Subscribers can get to Hulu Plus for one month free, and after that $6.99 every month after the initial month. Subscribers can cancel at any time.
Netflix offers a one month free trial to its service. After the free trial, the charge is $9.99 every month for great access to the Netflix library.  Membership is on  a month to month basis until canceled. Subscribers can cancel Netflix anytime.
WINNER:
HULU with it's monthly subscription rate coming in lower,  both have month to month memberships and no contracts.
---
Who Has Less Commercials or Ads During Streaming?
Netflix has never had advertisements  or commercials of any sort that would interfere with your streaming experience.
Hulu on the other hand has in a 41-minute show you will see no less than seven ads.  That seems like even more then regular TV except you would be paying to watch those ads on Hulu.  
WINNER:
Netflix who wants to pay to watch commercials and ads?
---
Can You Download Content For When You Don't Have Access to WIFI?
This feature was recently added by Netflix.  If you are traveling or somewhere that has no accessible wifi you can (ahead of time) download programs and movies to your device that can be viewed during those times.
Hulu doesn't have an option like this.
WINNER:
Netflix this feature has made a lot of parents happy for long drives on vacation as well as the college students that don't have WIFI in their dorms.
---
Netflix Has Effectively Won!
Its a well-known fact that Netflix is greater than Hulu at this moment when we compare Netflix vs Hulu, however we were entirely shocked to realize how well Hulu measured up in some of these classes.   Obviously, this little rivalry was only for the sake of entertainment – quality and convenience matter in a few these classifications.  
We don't suggest you settle on any contributing choices in light of this article.  Still, it's a perfect approach to get a feeling of the present condition of the streaming scene's greatest competition.
If you don't stare at the TV/films as frequently as I do then Netflix would most likely work flawlessly for you, however, if you require more substance you may want to consider both. So concluding I will juggle the two memberships, managing Hulu's ads as well as Netflix's absence of content.