Last updated on October 10th, 2022 at 06:01 pm
*This post may contain affiliate links. As an Amazon Associate we earn from qualifying purchases.
Finding horror or scary movies that are appropriate for all ages is extremely difficult. This is especially true when you are confined to only looking at whatever Netflix currently has available on their streaming service.
With three kids of my own and ages that range from 4-11 finding a good movie that is spooky enough for them all without giving them nightmares for weeks can be quite difficult.
After hours and hours of scouring Netflix looking for decent scary movies and shows that were rated PG or better I finally came up with this list.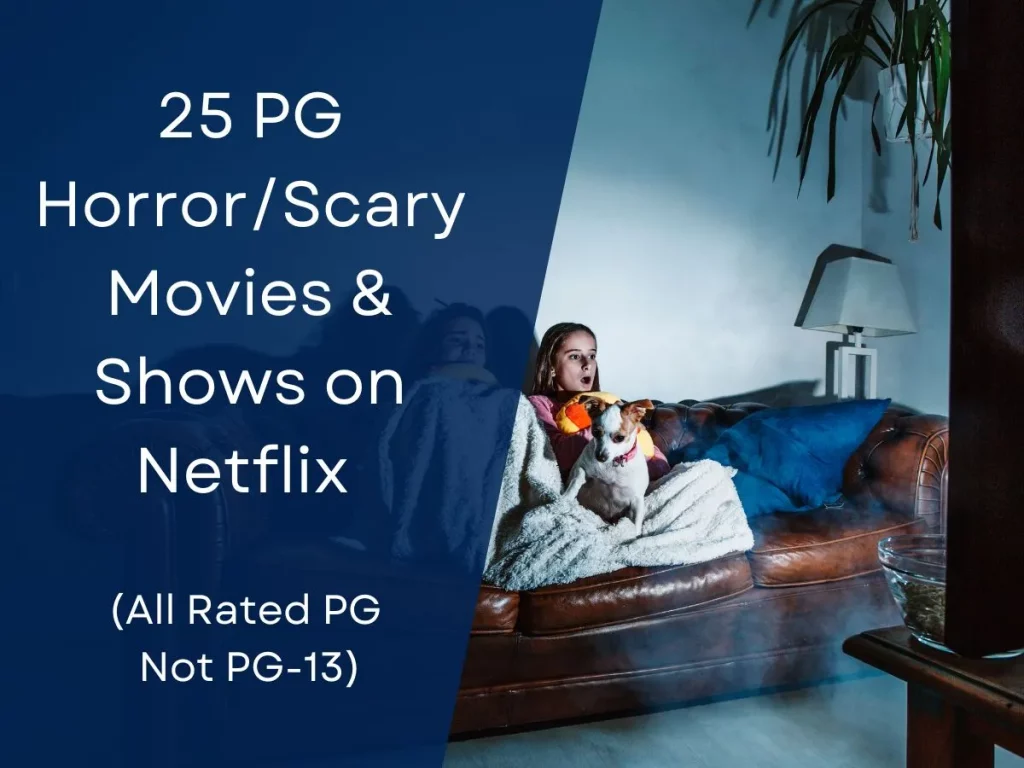 The order that they are in isn't from best to worst or worst to best but it is in the order of what I feel like the scariest horror movies or shows are that are rated PG.
If you are looking for horror films with gore, violence, etc. then this list isn't for you. But if you are looking for horror movies and shows on Netflix that you can watch with kids of all ages than it is.
Personally on this list I feel like the best movies/shows to watch for your next Halloween party (or just when you are in the mood for something a bit scary) will be the Goosebumps series and the Are You Afraid of the Dark.
However if those might be a little too scary for your young ones then there are tons of other options that are spooky but wouldn't be considered traditional scary or horror type films.
1. Nightbooks
Nightbooks is a Netflix movie adapted from the classic tale of Hansel and Gretel. It is full of over-the-top monsters and other evil creatures, and while it's meant to be a family movie, there are some moments that are more adult. For example, the witches in the movie aren't the only ones who have a dark secret. 
Other characters, such as a boy named Alex, learn important lessons and use teamwork to save his family from a life-threatening situation.
The film is rated TV-PG, which makes it suitable for families. However, this doesn't make it a perfect movie for everyone. Its runtime is only one hour and 43 minutes. While it has some good elements, it does suffer from pacing problems.
The cast is strong, and the script is well-written. The characters are likable and the story is engaging, but it's not a perfect movie for kids. Despite this, it's worth watching because of the performances of its talented young cast. 
Overall, Nightbooks is a fun and entertaining family movie with a great story and some genuinely scary moments. It's a good watch for kids who love scary movies.
Nightbooks is a spooky film that has its fair share of easter eggs from horror and fairy tales. Alex's captivity is reminiscent of Scheherazade in One-Thousand and One Nights, and the evil witch who lures the kids is reminiscent of Hansel and Gretel from Grimm's Fairy Tales. 
In addition, Natacha's apartment, which can house anything, looks like the Tardis from Doctor Who, which is an homage to the Doctor. Moreover, there are references to the Nightmare on Elm Street and The Lost Boys.
2. Goosebumps TV Series
If you haven't heard of Goosebumps yet, you might be curious about what to expect from this series. This horror series on Netflix will feature a series of interconnected episodes, as well as standalone episodes. The series originally aired on Fox Kids from 1995 to 1998 and was a top-rated show for the entire run. It later aired on Cartoon Network and Fox Family before finally making its way to Netflix.
The series was created by R.L. Stine, who also wrote the books. At the time, Stine was working on a Goosebumps book a month, so he didn't have a lot of time to devote to the TV adaptation, but he did love to watch the show take its stories in different directions. He especially enjoyed the Haunted Mask episode and the Night in the Terror Tower episode. The series also featured appearances by actors like Hayden Christensen and Ryan Gosling.
The series features episodes that run around 20 minutes. The episodes are well-paced and are most enjoyable when they are two parters. The finales often leave viewers on a cliffhanger.
3. Are You Afraid of the Dark?
"Are You Afraid of the Dark?" is a television show that focuses on scary stories for children. It originally ran for five seasons from 1992 to 1996. In February 1999, the show was relaunched and ran for two seasons, before being canceled in June 2000. The series was revived in October 2019 and that is what is available on Netflix.
The show was a hit on Nickelodeon in the early '90s, but now it's making the transition to the big screen. While there are still some scary scenes, this new version focuses on a less violent approach to making kids afraid of the dark.
"Are You Afraid of the Dark?" is the perfect blend of nostalgia and modern reinvention. The show makes sure to include enough horror nods and callbacks from the original series to satisfy the older crowd, while also giving respect to the younger crowd. The new show has succeeded in reeling in viewers of all ages.
The movie was popular enough to win multiple awards and become a television series. The show featured a group of teens called "The Midnight Society." One member of the group would share a terrifying story with the group every week. The story would then be shown to viewers between the group's arrival and departure. It was a successful way to increase television viewers' awareness of scary stories, and made the show popular with Millennials.
4. Erax
Although Erax isn't an entirely new film, it is a decent re-telling of a children's fantasy novel. Story Ink, the production company that made it, does a great job of pacing the story and bringing the characters to life. The film's premise is simple: a kid finds a magical book on the street and it has prophecies that come true. Such tales have been successful in the past, but Erax is a little different.
Erax is one of the Netflix Emerging Filmmaker Initiative short films, giving new directors the chance to tell their genre stories. It is directed by Hebru Brantley and stars Jasmine Cephas Jones, Genesis White, and Lance Gross. The movie is 13 minutes long and follows the lives of the characters of Nina and her Auntie Opal.
5. Creeped Out
In a Creeped Out Netflix TV series review, we'll take a look at the series' story, themes, and characters. This sci-fi series revolves around the creepiness of technology. We'll learn about wormholes, kids' obsession with their electronic gadgets, and the lure of high scores. We'll also learn about the importance of bonding between a father and son.
Creeped Out is an anthology series featuring five horror stories that are tied together by a masked character called the "Curious." The first season premiered on CBBC in the UK in October 2017, and the second season began airing on the Family Channel in Canada in April 2018. In October 2018, the series was added to Netflix for a second season.
Although the series is aimed at a young audience, it's rated PG-13 and features characters that are not too scary for kids. As a result, the stories are suitable for all audiences, from kids to teenagers. The first episode of the series focuses on eighth-grader Kim Bosher, who's glued to her mobile phone at all times. One day, she happens to see a knockoff model of the phone on television.
If you are a fan of horror TV, then you may want to check out the Creeped Out season 3 release date, trailer, and storylines. As the series is an anthology series, the stories of each episode are entirely different, but they do share some details in common. Although no official announcements have been made about the show's third season, you can be sure to find great horror and fun in this children's TV series.
6. Escape The Undertaker
Escape the Undertaker is a Netflix original series with a WWE theme. It follows the New Day, a group of super-stars who are on a quest to locate The Undertaker's urn. The game involves the players navigating The Undertaker's haunted house and overcoming obstacles to reach their goal.
The interactive nature of the show makes it a highly appealing choice for those who love professional wrestling and the world of WWE. The New Day are trapped in a mansion owned by The Undertaker, and must survive various surprises that await them inside. Mark William Calaway and Kofi Kingston play The Undertaker and The New Day respectively. Big E also makes an appearance.
While WWE properties are usually aimed at adult audiences, Escape the Undertaker does not aim to offend fans of hard-core wrestling fans. The film is family-friendly, though it fails to live up to its interactive ambitions. While there are some nice elements of the film that make it a good option for children, the story is somewhat lackluster, and it lacks the Halloween spirit.
Escape the Undertaker is a fun Netflix original with an interactive aspect. Although the film feels rushed, it's still fun for fans of WWE. Ultimately, though, this isn't the show for the serious wrestling fan. It is a fun, entertaining, and cheesy romp that will appeal to the younger crowd.
7. Scaredy Cats
Scaredy Cats is a children's TV series set in a spooky, yet charming world. The show is about Willa Ward, her cat sisters Scout and Lucy, and their witchy quest. This series features a host of goofy scenarios, hilarious characters, and the occasional supernatural incident.
The show follows the adventures of twelve-year-old Willa Ward and her two friends. Willa receives a mysterious cat amulet, and she must use it to protect her family from bad witches. Luckily, her friends Scout and Lucy help her. The series is set in a fantasy world, where magic meets values.
While Scaredy Cats is a fun children's series, it does have some dated elements. Though the cats are portrayed as comical and over-the-top, there are some creepy moments and spells that are not intended to scare the children. A subplot revolves around Willa's mother's death when she was a baby. The story ends with Willa finding her mom, but this may be too much for young children who haven't lost their parents yet.
Scaredy Cats is a family-friendly children's fantasy series that has been critically acclaimed by critics and kids. The first episode, titled "The Scariest Cat in the World," is a great adventure that is suitable for both younger and older children. The series' first season covers Willa and her friends' adventures. While it isn't as scary as the second season, it is still very fun and entertaining.
8. Haunted Hathaways
The Haunted Hathaways are a family of ghosts and their humans, played by a family of children, who move to New Orleans to open a bakery. However, they are not the only ghosts in town. Their house is haunted by Ray Preston, a man with two ghostly sons. After becoming trapped in the house, the family learns to deal with the ghosts in their home and learn to live with each other.
Besides being the ghosts' daughter, Hathaway is also the mother of two other ghosts: Ray and his sons, Louie and Miles. The ghosts haunt the Hathaway home and are determined to scare them out. They are also determined to stop Taylor from using Miles' ghostly help.
The Haunted Hathaways is a new series from Nickelodeon. The show will premiere on July 13 and has been ordered by the network for 20 episodes. The cast features Amber Montana, Benjamin "Lil P-Nut" Flores, Breanna Yde, and Chico Benymon.
The supernatural world of Hathaway is an interesting one. It features many characters with unique personalities and intriguing situations. Some of them are familiar and others are foreign. Some are even able to interact with other ghosts. The Hathaway family is a great example of a family with different personalities.
9. The Boy Who Cried Werewolf
The Boy Who Cried Werewolf is a 2010 made-for-television comedy horror movie. It stars Victoria Justice, Chase Ellison, Brooke D'Orsay, Matt Winston, and Brooke Shields. It was written by Art Edler Brown and filmed in Vancouver, British Columbia.
The movie has a lot of things going for it, including an interesting subplot involving a hippie cult. But perhaps its most compelling material is the conflict between the parents and their divorce. It also has an interesting subtext about not being able to trust or listen to adults. It's not too much more profound than that.
The Boy Who Cried Werewolf isn't the best werewolf movie ever made, but it's fun to watch. It's a fun throwback to the '70s horror genre, and it gives Kerwin Mathews plenty of material to work with. Scream Factory has released a decent DVD edition, but it's missing some key extras that would add value to the movie.
There are a few things that make the film a fun family film. While the main plot is centered around a boy named Jordan, it features some interesting subplots. A werewolf can be intimidating, but the main character's transformation is fun and funny. The movie is PG-rated, which makes it a suitable family movie.
Despite its lackluster plot and lackluster effects, the Blu-ray version of The Boy Who Cried Werewolf is a delicious Blu-ray treat. With a delicious audiovisual treatment and some photos, the film is an excellent choice for fans of horror movies.
10. A Tale Dark & Grimm
The first season of A Tale Dark and Grimm premiered on Netflix on Oct. 8, 2021. The animated series is based on the classic fairy tales and will introduce a new generation of children to the characters. It features a variety of funny and depressing scenes, as well as lessons for children about the dangers of the world.
A Tale Dark & Grimm is an animated show for children but has some edgy themes that may not be suitable for younger children. It also breaks the fourth wall by having the ravens speak to the viewers. In addition, the cast includes a comedian, Nicole Byer, who lends her voice to the series.
While the series does have darker moments, it still offers a light-hearted take on the classic fairytales. One episode even includes a cannibalistic witch, while another features a creepy man who chases the children. While the show aims to make kids laugh, there's still plenty of meaning for adults to take away from it.
A Tale Dark & Grimm is an animated series, and is very visually appealing. The characters are uniquely designed and are visually dazzling. The show is also well-written and is a great homage to the classic Grimm tales.
11. A Babysitter's Guide To Monster Hunting
A Babysitter's Guide to Monster Hunting is a dark fantasy comedy directed by Rachel Talalay and distributed by Netflix. The film is based on a trilogy of stories by Joe Ballarini. It stars Tom Felton, Indya Moore, Tamara Smart, and Oona Laurence.
The movie is an adaptation of a YA novel, and is the first entry in Netflix's Halloween 2020 collection. The premise follows an outcast nanny named Kelly Ferguson, who reluctantly agrees to babysit the boss' son. While babysitting the boy, Kelly discovers that the world is filled with monsters. In order to save the boy, she must go on an arduous journey. Along the way, she learns that she is part of a secret society of babysitters that fights against monsters.
While this movie is geared toward tweens, it is also a good choice for parents. The lead actors, Smart and Laurence, are both solid in their roles. A slow-motion scene early on captures the loneliness of an insecure teen. Felton, who also appears in the film, will appeal to fans of the Harry Potter series. The shadow monster resembles demogorgons and the dementors from the Harry Potter series.
The story is a little predictable. The monsters are not particularly terrifying, and the premise is easy to follow. However, the film does have some nifty moments that make it fun. The film is not as frightening as it could be, but it's still a good watch for families.
12. A Witches Ball
A Witches Ball is an movie that is perfect for young children. It follows a young girl who prepares for her full-blow witch debut at a ball. As she prepares, she runs into some problems, and she has to use magic to overcome them.
The story follows the story of Beatrix Potter, a young witch in training, who is trying to make it in the world of witchery. She has a half-magical heritage, and she is worried about her status as a witch. Her jealous "purebred" classmate is trying to keep her down. She must solve three magical riddles before the Witches' Ball, which doubles as the culmination of her school.
If you're looking for a movie to watch during Halloween, a witch movie is a must-see. They're popular in pop culture, and they're a fun way to entertain and frighten both children and adults. A Witches Ball is a family-friendly movie that follows a young witch named Beatrix as she prepares to celebrate her first Halloween as an official witch. Despite her fears, however, she is determined to make her newfound powers work for her.
After passing her final exam and making a dead rose come back to life, Beatrix is ready to graduate as a witch. She'll attend the 642nd annual Witches' Ball to celebrate her new status. Her classmates include her mother, who recently converted to witchcraft, and a bitchy witch who bullied her. At the graduation ceremony, Beatrix receives a crystal ball, but she breaks it.
13. The Haunted House
"Haunted House" is a new Netflix original series about the Harmon family who move into a house that is haunted by a haunted past. They are unaware of the haunting history of the house, and it is hard to keep the ghosts at bay at first. However, the ghosts start overlapping with their lives and they become increasingly difficult to control.
Despite the show's title, this supernatural thriller doesn't disappoint. It's filled with jump scares and powerful performances from the cast. It also pays homage to various genre classics, with sequences that echo Stanley Kubrick's "The Shining" and Tobe Hooper's "Poltergeist."
"Haunting House" is a new Netflix horror television series that plays with the expectations of the genre. The series begins with the last night in the Crain family's old house, and proceeds to intertwine flashbacks and flashforwards. This format is designed to create a compelling emotional throughline, and it plays with the different perceptions of the same events.
The show features a cast that represents all walks of life. The family has a complex history, and many members struggle to reconcile their pasts. One family member struggles with addiction, while another struggles with alcoholism. Each character has a storyline based on the story of a family shattered by a tragic event.
14. Monster House
Monster House is a computer-animated film from the minds of Steven Spielberg and Robert Zemeckis. This story revolves around three teenage friends who discover a mysterious living entity living inside their home. Despite being a horror movie, this film is uplifting and has tons of easter eggs related to the author Stephen King. As such, it is a great pick for younger audiences and adults alike. In addition to being a scary film, Monster House is also filled with fun, uplifting stories about teenage friendship.
The first two parts of Monster House are very ghoulish and frightening. The first two stories appear to be set in a world where humans are eaten alive, while the third segment is set in a softer post-apocalyptic landscape. The film is a blend of surrealism and quaint homey fantasy. Despite its gothic aesthetic, the film's characters are surprisingly endearing. In addition, the goth baby sitter Bones is creepy, tearing up DJ's stuffed animal and making passes at Zee. As a result, Bones is cast out of the house.
While Monster House is not the best kids movie of recent years, it is incredibly entertaining and gripping. Children and parents alike will enjoy the movie, though some might find it too scary for children under the age of eight. It is recommended that parents watch it with their children first to avoid scaring them too much.
15. Monster Island
Monster Island is an animated fantasy movie about a boy who has a secret identity, which isn't so secret anymore. A young boy named Lucas discovers that he is a monster, and he sets out on a quest to find his true origins. The film is a coming-of-age story about a boy who was shielded by his dad all these years, and he is determined to discover who he really is.
There are some reoccurring themes in this movie that make it suitable for a family audience, including good versus evil. It will also teach a valuable lesson against bullying and making fun of others. While young kids will likely find the film a bit scary, it is a great way to show them that monsters aren't all bad!
In addition to monsters, Monster Island features a social hierarchy, which makes it a perfect family movie for kids. A group of children on a tropical island face a series of challenges, including the arrival of giant starfish that threaten their lives. The film features the voices of Toshi Toda and Adrian Bouchet, along with Christopher Fisher, Meghan Oberholzer, and Natalie Robbie. The movie premiered on Syfy on June 1, 2019 and you can watch it now.
While this film is very entertaining, it is also not particularly original. While the premise is a clever one, the execution of it falls short of being a classic. For one thing, the characters are not particularly original, and there are a few plot holes. Despite this, the movie isn't too long and has plenty of action. It also features a castaway theme, which makes it a very appealing option for Netflix subscribers.
16. Gnome Alone
Gnome Alone is a remake of the Leprechaun franchise. It's not traditional horror, but it does have a lot of tongue-in-cheek humor. While Verne Troyer's character looks like an angry lawn ornament, he does show some genuine moments of humor in this movie. While the movie is not as funny as Leprechaun: Origins, it is still a fun watch.
While 'Gnome Alone' does have a few flaws, the film is mostly a fun family movie with mild scares. Younger kids might not understand Chloe's quest to become popular. 'Gnome Alone' is best suited for kids aged five and up. It deals with issues such as single-parent families, moving houses, difficulty making friends, and popularity.
Chloe's mother is an unreliable mother. She's also neglectful. As a result, she becomes the ally of Liam when he fights against the Troggs. This makes her a likable character, and the two of them bond over their shared desire to become good.
Gnome Alone is a 2017 Canadian-American computer-animated comedy. It's directed by Peter Lepeniotis and written by Michael Schwartz. It stars Becky G, Josh Peck, Olivia Holt, George Lopez, and David Koechner. It features some fun CGI animation, and some excellent voice acting. However, the film also has a few flaws.
17. The Little Vampire
The Little Vampire is a children's movie based on the books by Angela Sommer-Bodenburg. It follows nine-year-old Tony Thompson's dreams about a clan of vampires. He believes in these creatures, but isn't sure whether or not they really exist. Luckily, he meets Rudolph, a vampire who quickly becomes his best friend.
The Little Vampire is a clever, imaginative kid's movie that manages to inject sardonic humor into a pretty vapid genre. The film's running gags are fun, and the story is engaging and doesn't reek of cliches. Unfortunately, the rest of the movie is just mediocre.
The film is set in New England, where a family of vampires has taken up residence. As a result, they are able to survive on cow's blood, but the comet that will change their lives will come every three hundred years. Fortunately, their family has a magic amulet that allows them to change into mortals. Their ancestor has hidden an important piece of the amulet, but the family has no idea where it is. Rudolph and Tony work together to find the piece and save Tony and the entire village.
Although the story focuses on a young vampire, it also features older characters that add depth to the story. As an added bonus, 'The Little Vampire' stars Rollo Weeks as a 300-year-old vampire in a child's body. Despite the fact that it is aimed at young children, the movie features a good cast and good pacing.
18. La Leyenda De La Nahuala
La Leyenda De La Nahuala (The Legend of La Nahuala) is an animated horror film that was released in 2007 in Mexico. It was the fourth animated feature film in the country and was the first to be dubbed in Dolby Surround Sound. The plot follows a group of children who are drawn into a mysterious forest by the evil spirit La Nahuala.
The film begins with a mischievous little boy named Nando San Juan telling the story of La Nahuala to his younger brother Leo San Juan. The story scares Leo San Juan, who is an altar boy. When Leo arrives at Mass, he trembles and disturbs the mass. Friar Godofredo, who was in the church, gently reprimands Leo and convinces him that La Nahuala is dead.
Leo is a victim of the witch La Nahuala who wanted Leo's soul for her ritual. Nando was baited by La Nahuala to lure Leo. Leo is ultimately successful in saving Leo from the witch's clutches.
The film takes place during the Day of the Dead in 1807, in Puebla, New Spain. The narrator relates the tale of an abandoned house that is haunted by a malignant spirit known as "La Nahuala." In a day of celebration 52 years ago, the Villavicencio family hosted a Day of the Dead feast. But they were not aware of the presence of the malignant nahuatl in the house. This malignant spirit killed the cook and took over the body of their cook.
19. Ivy + Bean: The Ghost That Had To Go
The Netflix movie Ivy and Bean the Ghost That Had to Go is based on the bestselling children's books by Annie Barrows. These stories follow two siblings who are best friends and share a common fear. The movie is a delightful mix of adventure and fun.
Ivy and Bean the Ghost That Had to Go is the first of two live-action movies in the series. It stars Keslee Blalock and Madison Skye Validum as the two unlikely friends who are destined to become friends. The movie will also feature some of the original books from the series.
Ivy and Bean are schoolmates who play ghost hunts for fun. They are having fun scaring ghosts when a chilly wind blows from a vent in the school bathroom. Their friends don't believe them but they eventually unite to get rid of the ghosts and ghostlike creatures from their school.
The sequel is expected to follow the first film. This time, the ghost and ghostly creatures will be freed by a ritual. The movie is directed by Elissa Down, who has already directed Feel the Beat, The Honor List, and The Black Balloon. The scripts for all three movies are by Kathy Waugh and Jeff Stockwell. The films are based on Annie Barrows' books.
20. Pac's Scary Halloween
Pacs Scary Halloween is a 2016 short horror movie that features demonic ghosts and potty humor. It may appeal to younger kids but it's not very scary or original. It's also rather cliched, with few surprises. But if you're in the market for a Halloween movie for the kids, Pac's Scary Halloween could be a perfect choice.
The story follows 17-year-old Davis, who gets mistaken for a vampire by the school's most popular girl. He plays along with the rumor but later he has to fess up to his true identity. The movie is rated "PG" by the Netflix staff.
Pac is a kid who loves scary stories, so his parents are concerned about his mental health. His parents force him to tell scary stories every night, and his friends join him to save him. However, the story takes a turn for the worst when he burns his collection of scary stories. He is then captured by the evil witch and must escape her clutches.
The movie combines fun with a little bit of terror. This film is perfect for pre-bedtime routines, as it will scare your kids into the Halloween spirit. It's also great for kids who can't sit still.
21. Dreamwork's Spooky Stories
Dreamworks Spooky Stories is a family-friendly animated movie that features a few scary moments, but is still suitable for young children. This movie has few gory scenes, and the recognizable characters of the franchise offer a beacon of safety to nervous young viewers. It matches the quality of the company's most recent work, such as Lord Farquaad and Shrek 2.
Last year, DreamWorks released two Halloween specials on DVD. The studio typically releases DVD and Blu-ray combo packs during busy retail times, such as the holiday season. DreamWorks Spooky Stories promises three shorts in one package and delivers a total of 75 minutes of animation and 15 minutes of end credits. It's also a decent value for the money, and fans should consider picking up the DVD version.
Dreamworks Spooky Stories features two new Halloween themed specials and two old favorites. Shrek's Thrilling Adventures, Scared Shrek, and Monsters vs. Aliens: Mutant Pumpkins From Outer Space are just a few of the classic Dreamworks movies included in this DVD collection. In addition to the classic Shrek spookiness, other classic and new animation films are included in this collection.
22. Dreamwork's Spooky Stories Volume 2
Spooky Stories promises three original creations and delivers seventy-five minutes of animation, plus fifteen minutes for the end credits. The DVD and Blu-ray versions of this film are identical.
The movie is safe for young children to watch. It contains few scary scenes, and the characters are recognizable. In addition, this Dreamworks animation is consistent with its recent output. Shrek 2 was released shortly after, followed by Lord Farquaad. Therefore, Spooky Stories is a logical follow-up.
In addition, the Blu-ray version features good visual spectacle and textures. The black levels and color decisions are excellent. This is an appropriate film for a Halloween party. Susan, the lead in the movie, has parents who are Halloween-obsessed. She must fight the evil forces in her school and save Halloween, but she needs her parents' help to make it to the end.
While it may not be the most original movie from DreamWorks, this sequel is still an enjoyable and entertaining ride. It is an example of how DreamWorks can keep popular movie franchises alive and running without having to make a full-blown sequel.
23. Sharkdog's Fintastic Halloween
Sharkdog's Fintastic Halloween is a holiday animated special that features some of the same characters from the Sharkdog series. The main characters are Max (voiced by Liam Mitchell) and his friends Royce and Olivia. The film is filled with developmentally appropriate humor, teamwork and strategy, and lots of Halloween thrills.
The movie stars Josh McDermitt, Grey Griffin and Dee Bradley Baker. It's a family-animation that debuts on Netflix on 15 October 2021. You can also catch Sharkdog's Fintastic Halloween on Netflix JR. This Halloween-themed movie is rated PG and is perfect for the whole family.
Sharkdog's Fantastic Halloween is a Halloween movie that takes viewers back to Fishy Springs, long ago. Max tries to catch the mysterious Halloween thief, and along with his friends Royce and Olivia, he must solve the mystery of who is stealing Halloween treats.
24. Captain Underpants Hack-a-Week
The Spooky Tales of Captain Underpants: Hack-A-Ween is an Netflix movie that's based on the books by Dav Pilkey. The books have sold over 80 million copies, and the movie is a spooky, animated movie for children. It stars Nat Faxon, Jay Gragnani, and Ramone Hamilton.
The Spooky Tales of Captain Underpants: Hack-A-Ween is executive produced by Peter Hastings, and stars Academy Award-winner Nat Faxon, who also starred in Life of the Party, Disenchantment, and Married. The film's other cast members include Ramone Hamilton and Jay Gragnani, who previously starred in the movie Bubble Guppies. The film is also co-written by Faxon and director Peter Hastings.
25. Masha's Spooky Stories
Masha's Spooky Stories is a spin-off series created by the creators of the original animated series, Masha and the Bear. It runs on a 26-episode schedule and is available on Treehouse TV in English. The series follows Masha as she tells terrible stories and teaches the audience not to be afraid. The show uses 3D-graphics and anime to bring the stories to life.
The tv series is made up of thirteen five-minute episodes, with each episode focusing on a different fear or phobia. For example, a young child might fear being lost, while an older child may be afraid of thunderstorms and lightning. The series teaches children not to worry about these fears, and it features colorful images and entertaining characters.
After a series of success on YouTube, Masha and the Bear was licensed by Netflix and became available for streaming in August 2015. Although Netflix does not provide viewership statistics, YouTube provides a good indication of the series' popularity. The series has more than four million subscribers on YouTube, making it a popular option for children.
The creators of Masha and the Bear have denied accusations of harming children. The creator of the series has mocked the idea of banning the series. However, the show has attracted some controversy as it has been compared to political propaganda and Russian President Vladimir Putin.
Final Thoughts
Okay, I get it. None of thse are traditional horror movies. No they won't scare your pants off like some of the movies that are rated PG-13 or R will. But all of the movies and TV series that are on this list at least have a spooky theme (although the last few likely won't be scary at all).
I hope that this list of the top 25 horror/scary movies and TV series that are rated PG or better has been helpful to you.